call us
970-769-0933
cheaper than a durango taxi cab
Rates with Buck Horn Limousine are cheaper than taking a Durango taxi cab or airport shuttle. Our group rates are always the best deal in the Durango area. Get there on time, faster and in luxury for less!
Let Buckhorn help you plan your next adventure. You can also find ideas at Durango.org & Durango.com.
We would love to take you to Mesa Verde National Park. The exotic desert landscapes of Moab, Canyonlands, and Monument Valley are also just around the corner! Enjoy the scenery without having to watch the road. Stay safe. The Four Corners region has so much to offer.

Economy and Luxury Services
Buck Horn Limousine is a full service transportation provider that offers both economy and luxury transportation. The Buck Horn is Durango's oldest and largest transportation company. We are often thought of as the only Durango taxi cab service, providing consistent reliable car service and affordable rates for over 12 years. We travel anywhere in the Four Corners area and beyond.
We offer the lowest rates to and from the Durango-La Plata County Airport. We also offer planeside pickup at AvFlight and the Animas Air Park. Durango air travel can be tricky. Watch FlyDurango.com for changing flight information. Unlike other airport shuttles, we do not combine passengers. Buck Horn offers the lowest group rates when compared to any Durango taxi cab.
Buck Horn Transportation can also assist with special events. Rent a car or van for your wedding. The Buck Horn will not let you down on your special day. Let transportation be one less wedding detail to worry about. We can also be a resource to your wedding guests during their entire stay in Durango.
We offer many types of vehicles to meet your needs. See our Fleet page for a complete list.
Our Basic Car service is called point-to-point in the limo industry. It is almost like taking a Durango taxi cab but more reliable and comfortable. See all of our Services.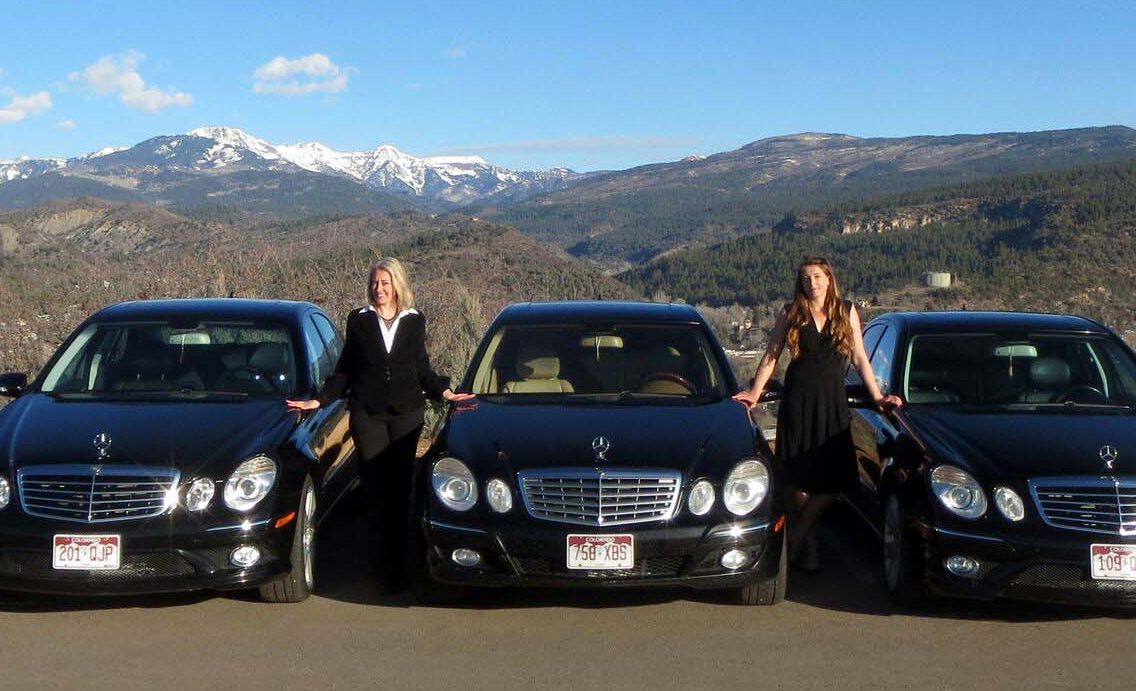 I broke my wrist in Durango while my family was skiing, Buckhorn was the only company to show up to get me to urgent care, not only did they take me there (and showed up fast) but Mikey stayed and filled out all my paperwork at urgent care since I couldn't write! He was so thoughtful and I am so thankful for Buckhorn coming to my rescue.

I've used Buckhorn for years, because it such a wonderful, professional service. We used it last night (05/12/16) and I listed Dave as our driver, but actually can't remember the driver's name. Just this morning, by boyfriend (Ralph Crawford) made the comment that the driver was very nice, friendly and communicative. Thank you for giving us a safe mode of transportation.

 

Dependable and on time. Driver was pleasant and I enjoyed our conversation. I will certainly use BH again.

Honest, consistent pricing. Good communications, polite and well dressed.

Our family had an enjoyable ride back to Silverton and I thank Ron for his conversation about happenings in the area.

Mark was so friendly and very professional!

I always took taxi cabs for granted living in larger cities. In Durango, the Buck Horn is the only company that you can count on to show up!! The Buck Horn has never let me down getting home from downtown or catching flights at the airport. Thank you!

Answered and showed up promptly. Was very friendly. $35 to downtown- cheaper than a cab

Awesome! Great service, prompt and professional drivers.

I think Jasmine was my driver's name both times this past trip. She signed the receipt JB. Great driver, super friendly, and we had a fun conversation also. I didn't know what time I would be finished with my hearing, but when I called for a return pickup, she was there within 15 minutes. I appreciate the super prompt service and great attention.

Buckhorn limo provides an amazing experience every time I call never late and always clean unlike other services around town in Durango, or Telluride CO. #1 recomended transportation for any person in need of a ride in or out of town or even just for a Buckhorn ride from the airport to the Strater Hotel a truly historic Durango, CO. experience. Thanks to the Buckhorn for always being there when you need a ride.

One of my Lucky Assistants needed a last minute ride out to the airport to pick up a car, wash, and deliver to the owner's home. Buckhorn offered great service, great pricing, clean vehicle and a friendly driver! Lucky Services will definitely be calling Buckhorn again the next time we need a taxi ride!!

The Buck Horn Limousine was a wonderful service for our sons wedding. They were courteous, helpful, prompt and considerate of our guests with disabilities. They drove our guests from the hotel to the wedding and then to the reception and back to the hotel. The driver was wonderful!

Tanya - Our limo ride was perfect. Both drivers, Jasmine & Brad, were on time, friendly and most importantly - safe drivers. When we come next year we will use your service again. Again, thank you.

The ride was extremely easy to schedule. The driver arrived promptly in a very clean vehicle and was extremely efficient and friendly. On the downside the vehicle was not easily recognizable as Buckhorn Transportation

Great experience on our trip to and from Durango!

I would DEFINITELY use again and highly recommend Buckhorn Limousine to my friends. I had to go across town to pick up a repaired car when my friends could not help out and Ron responded promptly and delivered me to the garage quickly and efficiently. He was friendly but not overly chatty. Great experience.

Buck Horn is my go to for a night out on the town with friends and family. All the way back to when they had the Wagoners. They picked my freids and me up on time. The driver was very neat and professional. When we were ready to go home they were just a phone call away. You can't beat the superior service, and luxury of Buck Horn.

Amazing! Friendly and prompt service. Very professional.

The service was excellent, the driver was very courteous and informative about the area. Would highly recommend your services.

Scheduling on the phone is easy and fast service. Jasmine does a great job transporting my daughter. Thank you!